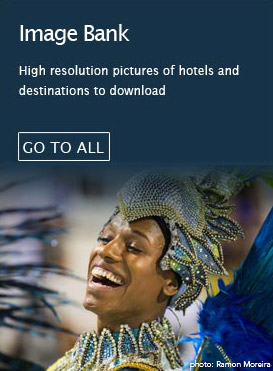 CLIENT AREA
LOGIN HERE to our client priviledged area to acess our rates and other special informations
The best way for travelers to enjoy the true spirit of Carnival. Your clients will be able to experience the intense emotions of this special celebration as honored guests of one of Rio's legendary "Samba Schools". Wearing their very own costume from the school on parade night, they will be escorted to the Sambodrome with our guide and fellow members of "Escola de Samba".
BLUMAR'S COLLECTION of private homes and villas offers immaculate furnishings, exclusive privacy and exceptional concierge services.
In this highly personalized environment clients can select a home in accordance o their particular needs and tastes, as well as their budgets.
The perfect wedding location must represent the style and spirit of the bride and groom, and Brazil offers a wide array of options, including stunning tropical beaches and beautiful historical towns with baroque colonial churches, rich culture and religious energy, not to mention spectacular natural wonders which not only provide a unique backdrop for the special day, but also excellent options for a fantastic honeymoon.
Blumar Brasil - Rua Siqueira Campos 43 - cob 2 | Copacabana | Rio de Janeiro | Brazil | 22031-901 | Tel: 55 21 2142-9300


your opinion
emergency phone:
55 21 99630 4627
For questions or additional information
about products contact us at:
operacao@blumar.com.br





represented by:



Your opinion
All form fields are required.
NAME:
EMAIL:
YOUR OPINION IS IMPORTANT TO US