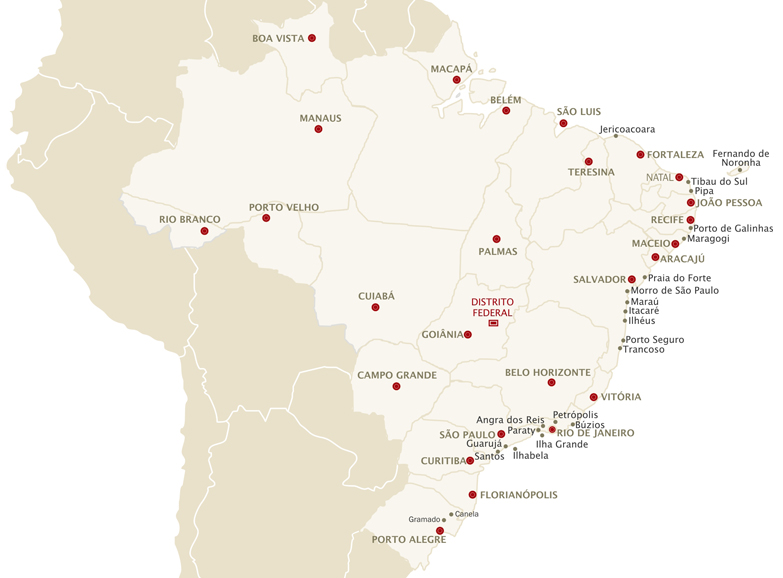 CLIMATE
The climate varies from arid scrubland interior to impassable tropical rainforest in the northern Amazon jungle and tropical beaches along the eastern coast. In the south the seasons are more temperate. The most important thing to know about Brazilian seasons is that they are the inverse of those in the Northern Hemisphere (e.g. summer in the Northern Hemisphere is winter in Brazil). Summer and winter averages vary depending on city and region, but below are average temperatures for the most popular regions and destinations:

Summer/winter
Northeast: Fortaleza 31°C (88°F)/ 29°C (84°F), Salvador and Recife 30°C (86°F)/ 27°c (81°F)
North: Manaus 31°C (88°F)/ 30°C (86°F), Belém 31°C (90°F)/ 27°C (81°F)
Central: Cuiabá 32°C (91°F)/30°C (86°F), Brasília 26°C (78°F)/ 25°C (77°F)
Southeast: Rio de Janeiro 30°C (86°F)/25°C (77°F), São Paulo 26°C (78°F)/22°C (72°F)
South: Florianópolis 26°C (79°F) 21°C (70°F), Porto Alegre 29°C (84°F)/19°C (66°F)]

Rainy periods occur from January to April in the north (22 is the average number of days with rain); April to July in the northeast (14 is the average number of days with rain); December to March in the Rio/Sao Paulo area (the average number of rainy days is 10).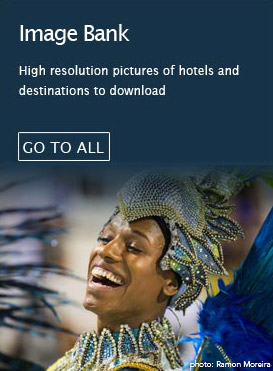 CLIENT AREA
LOGIN HERE to our client priviledged area to acess our rates and other special informations
Blumar Brasil - Av. Borges de Medeiros, 633, Sala 407 - 408 | OFFICES LEBLON | CEP: 22430-041 | Leblon - Rio de Janeiro - Brasil | Tel: 55 21 2142-9300


your opinion
emergency phone:
55 21 99630 4627
For questions or additional information
about products contact us at:
operacao@blumar.com.br



represented by:



member of:
Your opinion
All form fields are required.
NAME:
EMAIL:
YOUR OPINION IS IMPORTANT TO US